Geo-Technical & Hydrological Investigation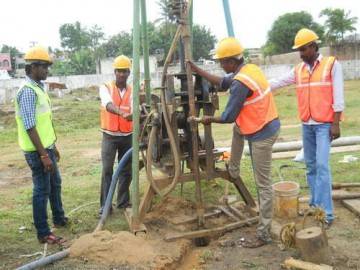 We provide services for Geotechnical and Hydrological Investigations for all the infrastructural projects like Oil & Gas Pipelines, Roadways, Railways, Canals & other infrastructural projects. We have completed various projects for Geo-Technical & Hydrological Investigation of national importance for more than 4,00,000 mts for esteemed clients like GAIL, GSPL, NRL, Reliance, Mecon, etc. The work consists of the following activities:

Hydrographic Survey Differential Global Positioning Services

We use advance navigation and data acquisition system and processing software for preparation of charts. We offer Differential Global Positioning Services carrying out all types of Hydrographic survey for the following categories:
Bathymetry surveys
Rivers & Lake/Reservoir surveys
Port &Harbours surveys
Dredging surveys
Geophysical Surveys
Diving Support-Positioning Service
Offshore construction projects
Positioning Services- Rig and Barges
Route survey
Shallow water Oceanography

We also offer UHF/HF linked Differential Global Positioning Service (DGPS) with Positional accuracy of sub meter for:
Vessel navigation and offshore surveys
Rig positioning, offshore vessels and barge positioning
Land surveys and GIS (Geographical Information System) application surveys
Vessel management services
Navigation assistance and pilotage for vessel movement in and out of ports/harbor​

Marine/Offshore Construction Services

We have expertise in providing survey and navigation services on turnkey basis to Marine/Offshore Construction Services. The companies are involved in: Jacket, SPM/SBM & CALM BUOY installation, Pipe laying, construction of jetties and dolphins hook-up.

Our activities involving:
Pre-engineering and prelay support services
Jacket installation and pipe lay support services
Post-construction support, pre-burial and post-burial surveys
As built and cathodic protection survey services
Cable Laying

Geophysical Survey Services

SKP is a dynamic company that offers a total solution to all near shore & offshore survey requirements. Geophysical Survey is the science of measurement and description of features which affect Maritime Navigation, Marine Construction, Dredging, Offshore Oil Exploration Drilling and related disciplines. This includes all facts of project management including; desktop studies, survey planning, data acquisition, sediment sampling, data interpretation, ore reserve calculations, map generation and report writing. Undertaken for collecting Subsea information like Water Depth, seabed profile/mapping etc. used in making Hydrographic Charts, and construction support services etc. Survey data can also be used in identifying manmade obstructions, seabed hazards.

All tasks are performed in-house which facilitates quick turnaround times on all projects. The combination of experience, expertise and innovation creates a formidable survey team.
Offshore pipeline and cable route surveys
Pre–Engineering Survey
Pre Installation Survey
Post Lay Survey
Debris Clearance Survey
Free Span Detection
As-Built Survey
LBL Metrology
Seabed Sampling with Drop Core and Grab Sampler
Seismic Survey
Topographic Land Survey

Geotechnical Investigation (Land & Marine) and Field Testing

We offer consultancy services for all types of Geotechnical projects (Onshore, Marine & Offshore)

The division comprises qualified and experienced team of geotechnical engineers aided with sophisticated equipment fully fledged soil and rock testing laboratory to cater to the needs of ground engineering and related activities.

Activities involved are:
Geotechnical studies for designing substructures through borehole exploration, geophysical exploration, sub surface soundings, plate load tests, Piezometric studies etc
Identification of problematic soils and remedial measures.
Slope stability analysis, and designing ground improvement techniques.
Testing and analysis of sub grade and sub base materials for roads and runways, suitability tests of material for embankments, clay liners for engineered landfills, fill material for reinforced earth retaining walls etc.
We have different kinds of Hydraulic Feed Rotary and Calyx drilling rigs 100/150 mm diameters boreholes having drilling capacity from 0-300m depth. We provide augur 100/150 mm diameter boreholes up to maximum depth of 10 m.